Maid Cafes In Akihabara, Tokyo
Akihabara's Electric Town is well known for three things – big electronics stores, Anime and Manga themed shops and Maid Cafes. In fact, one of the top touristy things to do when you visit Akihabara in Tokyo, is to visit a Maid Cafe.
What Is A Maid Cafe?
Maid cafes are cosplay themed cafes where the waitstaff are usually young women who are dressed up in a maid costume. The cafes serve ice cream, coffee or entrees. What makes these cafe unique is not just the costume but also the rituals that are part of the service. Anywhere else in the world, the Maid Cafe could seem a bit creepy but they fit right in, in Akihabara's Electric Town which is all about Otaku and cosplay culture.
My Maid Cafe Experience
As I strolled down the streets of Electric Town, I noticed young women dressed up in a maid costumes handing out flyers promoting their maid-cafes. I chose one and was ushered into the cafe by a "maid" who informed us that we could only take photos of the maids during photo time. Even though I didn't immediately understand what she meant by photo time, I nodded and signalled agreement.
Once inside the maid cafe, the waitress dressed in a maid costume approached us with the menu. She immediately informed us that there is a seating charge. A seating charge is a fixed amount per hour that is added to your bill on top of the charge for the food. In Japan, seating charges are common in many restaurants that are located in tourist centric locations.
The Tourist Experience
Looking at the menu, I understood what the photo time meant. You could order just the ice creams and drinks or could go for the "tourist experience". The "tourist experience" included not only get a free gift but also a photo opportunity with the maid. There were also other options to choose from: a maid show – a performance by the maids with light sabers and cosplay – where you could dress up as a maid. The light saber show and the cosplay options sounded fun but a bit too much to handle after a day of non-stop shopping. So, I chose the tourist experience. What came next was an odd mixture of fun and embarrasement.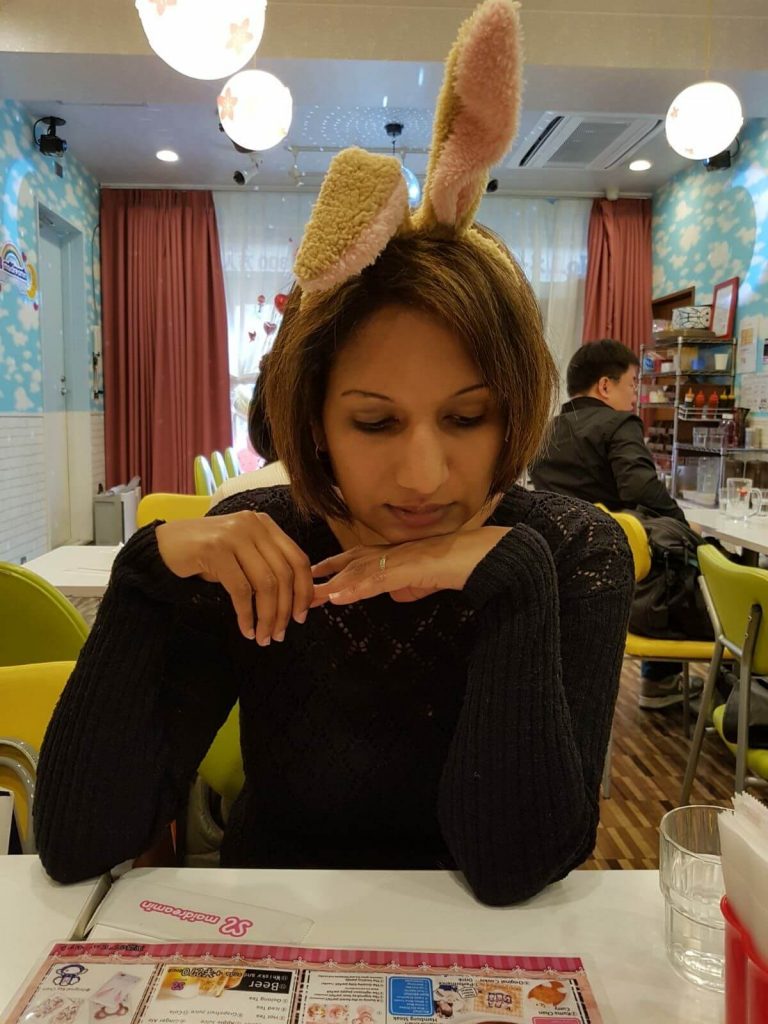 First, the waitress presented my husband and I with a selection of animal ears headbands to choose from. My husband reluctantly chose the one with the smallest and the least embarrasing ears. I, of course, went for the opposite – huge bunny ears! After we wore the animal ears, the maid cafe ritual began. The waitress asked us to repeat a song after her. It went something like "Delicious … Delicious…" followed by some japanese words. We hestitanly mumbled the lyrics back to her. As if singing a song not embarrasing enough, you had to repeat all the weird hand gestures and claps that accompanied the song too.

The icecreams and drinks took some time to arrive. However, when they did arrive, I was delighted and understood why they took so long. The two ice creams had been decorated with animal faces and just like everything in the cafe, they were very cute. My icecream was a duck with a marsh mallow head and my husband's icecream was a bunny with two cookie ears. Once again, the waitress began her maid cafe ritual again. We followed suit now a bit used to the absurd ritual. The ice creams tasted as good as they looked. We finished them off with fizzy green melon sodas.
Photo Time
Once we had paid our bill, It was finally photo time! we were led to a small stage area at the back of the cafe. The two maids who had served us took turns taking a photo with me. Of course! I had to pose with ridiculous hand gestures again else it wouldn't be a maid cafe experience, would it? I left feeling a little silly but with a huge smile on my face and bunny ears on my head.
What do you think of this maid cafe experience? Will you try it if you visit Japan? Would love to hear your thoughts. Let me know in the comments.
Love this post? Pin it!