Emerald Pool was one of the top attractions on my list of places to visit in Krabi when I planned for the trip. However, I always questioned whether this attraction was really as good as it seemed? Well, to answer the main question of the article – is it worth a visit? In one word, Yes! Emerald pool didn't disappoint and I had much more fun than anticipated.
If you are planning a trip to Emerald Pool in Krabi as well, here's all the info you need:
Why you should visit Emerald Pool in Krabi?
The obvious answer to this is question is to swim and soak in the warm Emerald pool. Look at that gorgeous water shown in the featured image. Do you need another reason? As good as the water looks, it's also great for your skin as the source of this mineral-rich water, the Blue Pool, sits on a volcano.
Opening Hours
If you plan your trip well, you'll be able to avoid the crowd and enjoy the pool more to yourself. The Emerald pool opens at 8.00 AM. and closes at 5.00 PM. So, the best time to visit the Emerald pool is early in the day close to the opening time when the pool is less crowded.
Entrance Fees
They have a different entrance fee structure for locals and foreigners. For locals, it costs 20 THB for adults and 10 THB for children. For foreigners, it's 10 times more. It costs 200 THB for adults and 100 THB for children.
The Blue Pool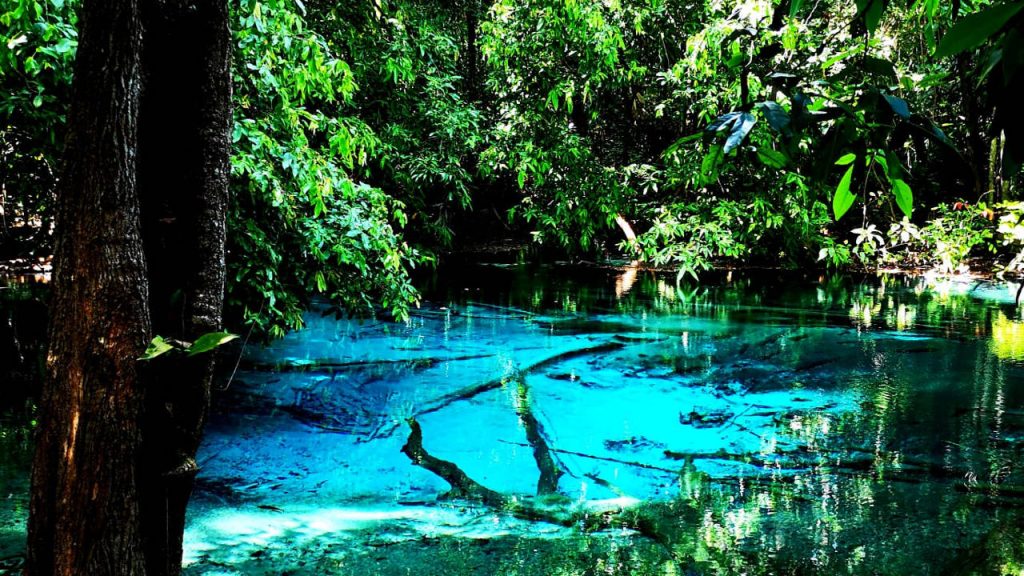 The second reason to visit is to see the vivid blues of the appropriately named Blue Pool. This pool is the source of the Emerald Pool. However, unlike the Emerald Pool, you can't swim or even touch the water of this one. Since the Blue Pool lies on top of a volcano, which heats up the water to around 50°C to 60°C, it's extremely dangerous to do so.
To reach this pool follow the paved path from the Emerald Pool to the Blue Pool. The last part of the path is not paved and is a dirt path through a forest region. Don't stray away from the marked trail and try not to make much noise to not disturb the wildlife that inhabits this area.
Blue Pool Opening Hours
This pool opens later than Emerald Pool at 10 AM and closes earlier at 3 PM. This area is also breeding ground to Gurney's Pitta. So, the Blue Pool is closed from May to October during the breeding season.
The Crystal Pool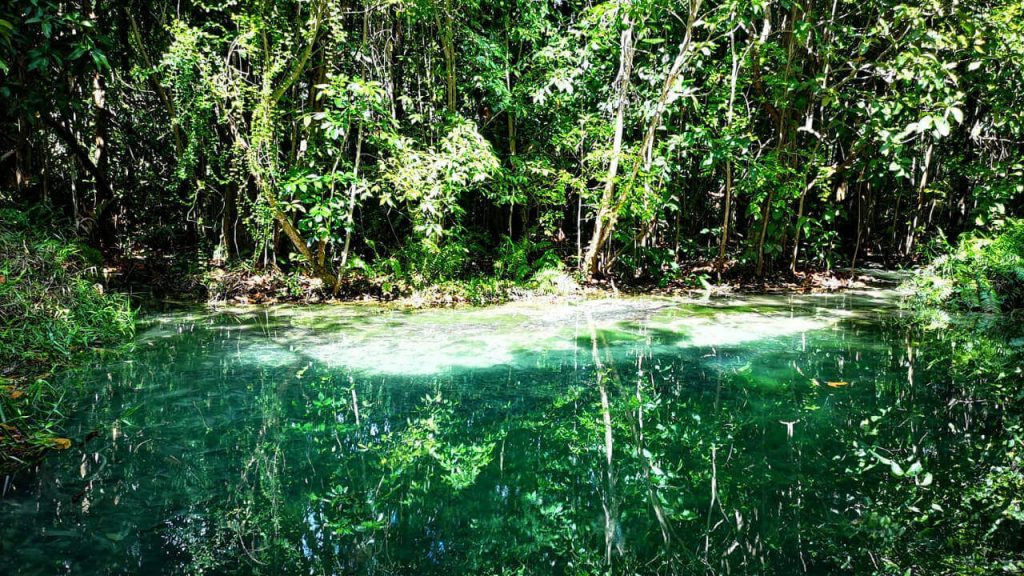 The Crystal Pool, also known as the Glass Pool or Sra Kaew in Thai is another pool near the Emerald Pool. Though not as attractive as the other two pools, it's certainly worth a look. To get to this pool, follow the clearly marked signboards directing you to this pool on the way to the Emerald Pool.
The Hermit Court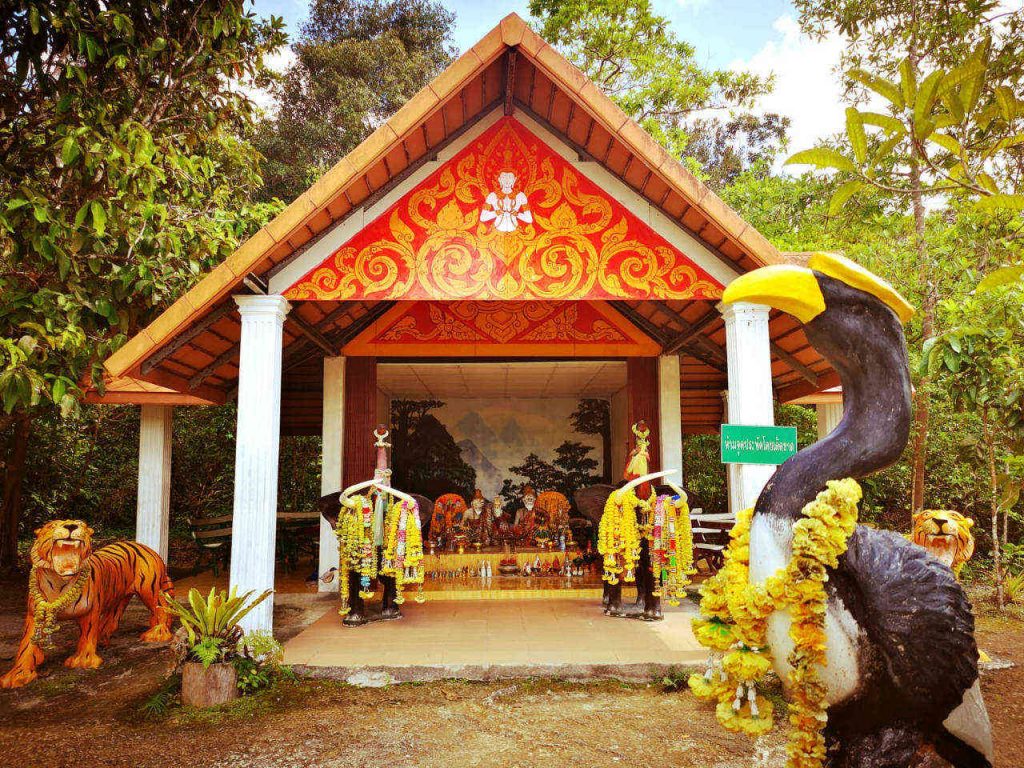 On the way to the Blue Pool, you'll come across the Hermit court and a clear flowing spring beside it. Locals believe that if you pray here, your wishes will be granted. I wished for the success of this blog, I hope my prayers are answered.
Street Food at Emerald Pool
At the entrance of Emerald Pool, there are a number of street food stalls selling typical Thai street food. Make sure you finish your food at the stall itself as the food can't be carried inside. You have to deposit all the food items in a plastic bag at the Entrance. You can get it back on your way out.
How to go to Emerald Pool from Ao Nang?
Emerald pool is located in the Khlong Thom District of Krabi, Thailand. It's about 70 KM from Ao Nang and takes about 1hr and 15min to get there by car or scooter.
There are a lot of scooter rental places near Ao Nang beach and Krabi Town that rent out scooters for a day. To be able to rent a scooter, you need a driver's license (preferably an international driver's license in case you are stopped by the police), rent and deposit money and a passport. The scooter rental place requires a deposit or passport as insurance for the scooter. When you return the scooter, you'll get the deposit and the passport back.
The route to Emerald Pool from Ao Nang is simple. Take route 4201 followed by 4034 get out of Ao Nang to join Route 4. Once you are on Route 4 or Phet Kasem Road, there are no more turns or diversions for 39.3km. Then, you need to take a turn at 7-Eleven opposite the Klong Thom Police Station as shown in the map. There's a series of left and right turns during the last leg of the journey as shown in the map above. Download an offline map of the area on your phone for convenience.
Once you arrive at the Emerald pool, park your scooter/car at the paid parking lot at the entrance. For larger vehicles, there's a parking lot opposite the Emerald Pool entrance which is in use as well.
Emerald Pool Tours
There are a lot of tour buses that take you Emerald Pool as part of their full-day itinerary. However, I like to book my tours, with GetYourGuide because their tours are reliable and they offer the best price on their tours. Here are some of the top Krabi Tours:
Krabi Jungle Tour: Tiger Temple, Hot Springs & Crystal Pool: This tour takes you on a 7-Hour tour to Emerald Pool, Tiger Cave Temple and hot spring waterfall. Click here to book
Private Trip to Emerald Pool, Tiger Cave Temple & Waterfall: If you are looking for a more luxurious experience, you can go with this private tour. You'll be driven to the destination in a private air-conditioned car with an English speaking driver. Click here to book the private tour
Affiliate Links

This post contains affiliate links. This means that when you book a hotel/tour through the links posted here, I get a small fee from the booking amount. Please note this doesn't cost you extra. You pay the same amount if you do it through my link or directly. If you find this article useful, please consider booking through my link so that I can continue writing this travel blog. Thank you for your support.